LEAF Lab heads to New Orleans
The LEAF Lab took a trip to New Orleans to present three innovative studies to other academics at the Southeastern Psychological Association's annual conference (April, 2023)
The LEAF lab presented innovative research on important lifestyle factors affecting college student health and wellbeing. The first poster "The clustering of lifestyle behaviors in U.S. college students: A network approach" examined how different health behaviors tend to cluster together in college students. Using network analysis methods, the researchers found that time spent watching TV, alcohol use, social interaction, and strength training were the lifestyle factors most strongly connected to other behaviors. This implies that targeting interventions on highly interconnected behaviors like reducing TV watching could have cascading effects on other aspects of lifestyle. However, they also caution that unintended consequences are possible if behaviors are strongly socially embedded (i.e. a lot of people's social time is spent watching TV).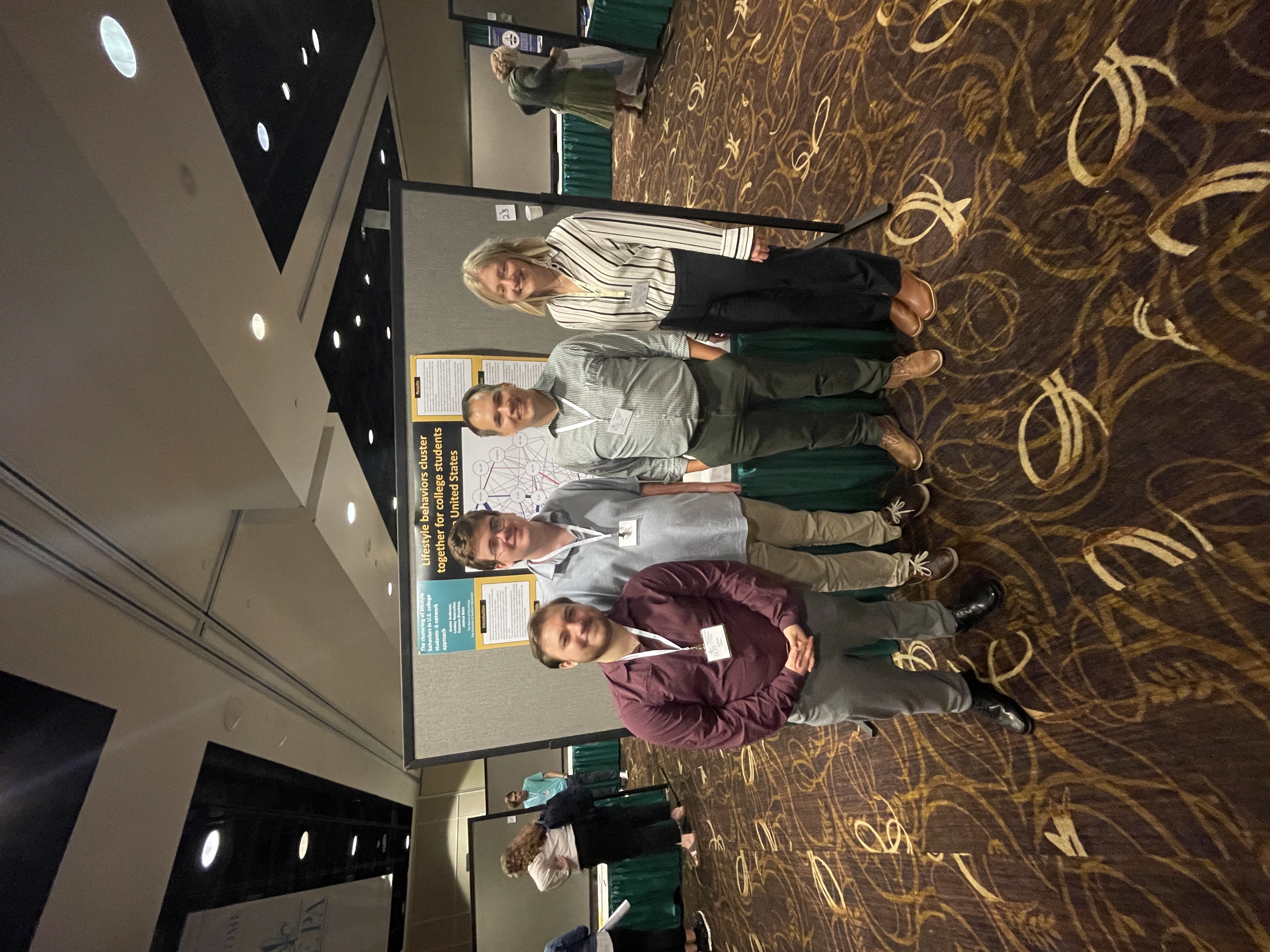 The second poster explored community attitudes toward the Long Leaf Trace, a multipurpose trail in Mississippi. Using interviews and thematic analysis, they identified both benefits and concerns related to the trail. On the positive side, residents saw it as a health-promoting community resource facilitating recreation, social connection, and time in nature. However, safety issues were a major concern, especially related to the trail's secluded design, intersections with roads, and women being targeted. Still, most viewed the trail as a source of community pride. This reveals how perceptions of a local amenity shape usage and impact accessibility as a driver of healthy lifestyles.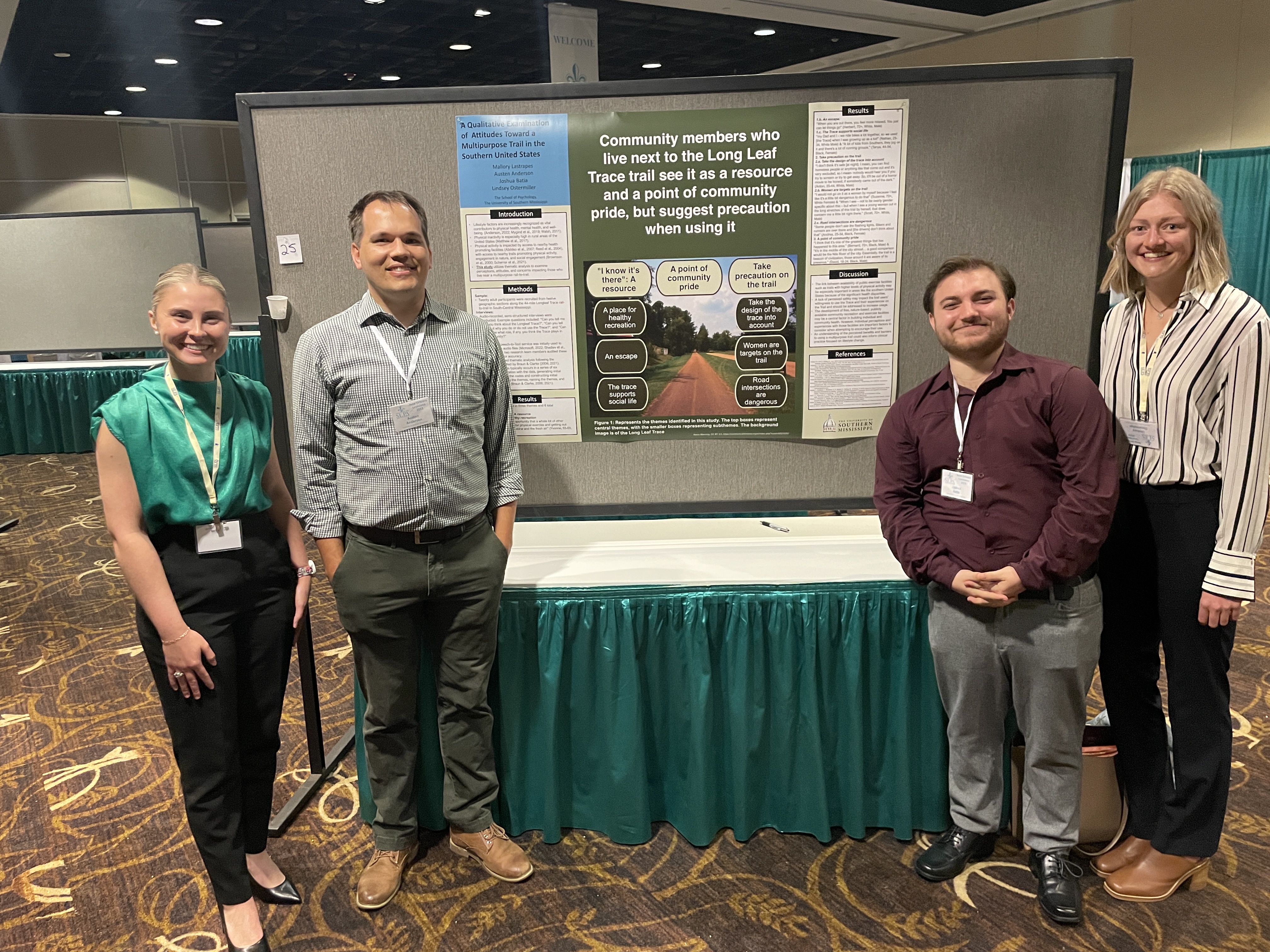 Lindsey Ostermiller presented initial results from her master's thesis, titled "The mental health of LGBTQ+ graduate students: Examining the role of lifestyle behaviors." This presentation examined mental health disparities and differences in lifestyle behaviors between LGBTQ+ and non-LGBTQ+ graduate students. The results showed that LGBTQ+ graduate students reported higher levels of psychological distress compared to their non-LGBTQ+ peers. Furthermore, LGBTQ+ students had worse profiles across a range of lifestyle factors including sleep, substance use, social interaction, and spiritual engagement. Psychological distress was negatively associated with healthy behaviors like strength training and time with family, and positively associated with unhealthy behaviors like TV watching and cannabis use. Overall, the findings highlight the need for targeted mental health and lifestyle interventions to address the disparities faced by LGBTQ+ graduate students, with a focus on improving sleep, reducing substance use, and promoting social connection and spiritual wellbeing. This will likely require advocacy, inclusive policies, and institutional support at universities.
All three studies showcase how LEAF lab research can unravel the complex factors influencing lifestyle choices and population health. Presenting this work at a major regional conference provided valuable feedback to the team while also allowing them to share their findings with the academic community.